Sales Condition
Warranty
All our products have been QC checked before leaving factories. And we provide one year limited warranty for the MHS humidifier machine, two months warranty for the mist maker or fogger replacement parts unless it is specified differently. This warranty does not extend to damage of a product or part resulting from accident, misuse, alteration, neglect, abuse, improper installation, or normal wear to the product(s). This limited warranty does not cover any costs associated with the installation or removal of products subject to warranty claims. Replacement liability is limited to our sole discretion of any part or parts of the unit's defective material or workmanship.
Note:
Mist makers are designed to use in regular clean tap water. Our warranty does not cover for mist makers that are used with other liquids or water which has added chemical, nutrient, scented oil or any kind other than clean city tap water. Warranty is void once product has been alterred or modified by user.


Contact us by
e-mail

or call
(626) 258-2928
(626) 258-2955

or send questions and
comments to:
MAINLAND MART CORP.
2535 Durfee Ave.
El Monte, CA 91732
U.S.A.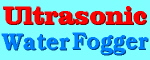 Click to see more
Ultrasonic Fogger



Holiday shipping schedule:
Our warehouse will close for the holidays from 12/24 to 1/2, orders received during these days will be shipped in the first week of January new year.
Ultra Sonic Water Fogger

Frequently Asked Questions:

Q. Can you tell me more about the ultrasonic fogger regarding its usage, maintenance, safty and detail info?
A. Yes, please click to see Detail Fogger Information.

Q. Do I have to pay any other service fees?
A. If price list is "shipping included", and this price is all you pay including shipping, handling for address within the 48 mainland United States. Some items like the humidifier machines shippings are not included in their prices, they will be quoted and confirmed by customers before processing orders, or we can use customers shipping accounts to ship their orders.

Q. Can I pay my order by check or money order? and how?
A. Yes, just fill out your order form as requested, and type in "will pay by check" on the "Additional Comment:" section and submit your order online to us. Then make your check or money order in your order amount payable to: MAINLAND MART CORP., and mail it with a copy of your order to the address shown on the left column.

Q. How long will it take to receive the merchandise from time of an on-line order?
A. Normally, you will receive it within 2 to 5 working days depending on your zip code.

Q. Is there a minimum dollar amount on an order?
A. No, there is no minimum dollar amount on an order, however there is minimum quantity for certain items, you can see the minimum quauntity requirement below the price.

Q. What if I do not like the merchandise that I received?
A. You can return it to us within 30 days of the purchase, but you need to contact us first within 10 days after receiving the merchandise to get a RMA number, there will a 15% restocking fee for returning items, and shipping fees is non-refundable. There will be no returned merchandise after 30 days of the purchasing.

Q. What if the merchandise I ordered are out of stock?
A. We only put available items on the web site, but we had situation that many orders came in for the same item at the same time, this made it out of stock temporarily. We will let you know by e-mail under this case.

Q. How do you deliver the purchased merchandise throughout the country?
A. We use U.S. post office service, UPS or RPS shipping company for shipping address within the mainland United States. We use U.S. post office service for area outside of The United States, additional fee may apply to these shipping address, we will let you know by e-mail. You may request to ship your order via express mail, additional shipping fee will be added to your order if so.

Q. What is your Privacy Policy?
A. We do not sell, trade or give any of our customer infomation to other businesses.